It was 20 years ago today! On March 31 1996 Michael Jackson released They Don't Care About Us, the fourth single from his album, HIStory: Past, Present and Future, Book I. The song and its politically provocative videos would become some of the most iconic and controversial of the star's legacy. This is the story behind it all.
They Don't Care About Us was a bold political track and Jackson needed a strong director who could deliver the potency and strength which the song required. Having previously looked towards Hollywood for innovative collaborators such as John Landis, who had directed both Thriller and Black or White, as well as Martin Scorsese (Bad) and David Fincher (Who Is It?), it was almost natural that a feature filmmaker be chosen.
For They Don't Care About Us Jackson would seek out the skills of one of Tinseltown's greatest agitators; Spike Lee, director of Do The Right Thing and Get On The Bus. 
Lee was the perfect choice and two promo videos were devised, the first of which would see him travel to Brazil, where authorities even tried to ban the shoot from taking place. The unofficial Michael Jackson fanzine, Dangerous Zone, ran an article in 2001 about the making of the video:
It did not all get off to a smooth start. Upon hearing of Jackson's intent, Brazilian authorities tried to stop permission being granted to film. Members of government bodies expressed their aversion to the project, fearing that it would show their country in a less than favourable light.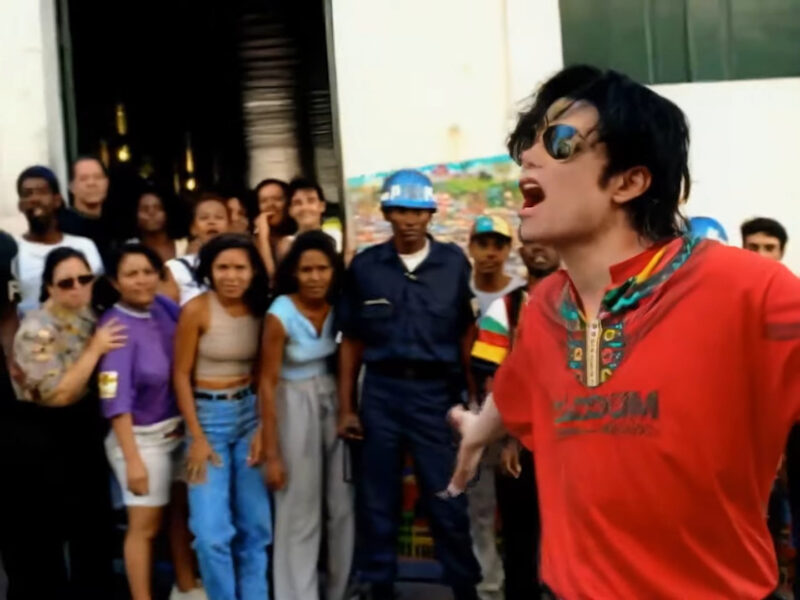 Others approved of the idea hoping that a Michael Jackson video would draw the world's attention to the Brazilian poverty, and the region might even get some help. Brazilian officials were mostly concerned that the video will show impoverished districts of the city:

'Brazil is hoping to win the right to host the Olympic Games, and a demonstration of the Rio slums may affect their chances of hosting the Olympics in 2004. Residents of Rio de Janeiro favela are, nevertheless, very happy that the world will finally get to see their living conditions.'
Permission was, however, granted to shoot for 20 days in both Salvador and Rio de Janeiro. The decision was then promptly reversed without explanation and the granted shooting time was reduced to 5 days.
Lee began principal photography on February 10th, 1996, with Jackson arriving the following day for a hectic shoot with some of Brazil's most famous percussionists. Dangerous Zone chronicle the making of events:
Michael's dance with the Olodum band (a worldwide known Brazilian drum band consisting of approximately 200 members) and the scene where a young woman breaks through the cordon to hug Michael are shot in the historical part of another Brazilian city, Salvador. The territory where the filming takes place is protected by 1500 policemen. Michael dances for six hours straight (just two months after he collapsed during a rehearsal in New York on December 6, 1995). In the beginning of the video, a girl speaks in Portuguese, "Eles nao ligam pra gente," which means "they don't care about us."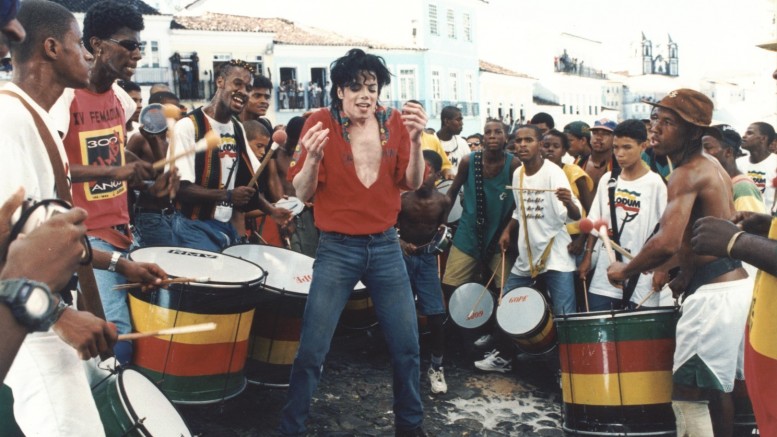 In a series of archive interviews, Lee spoke favourably of his working relationship with Jackson. "The original concept was not meant to be two videos, the prison stuff was going to be combined with the stuff we shot in Brazil," says Lee, "The marching orders Michael gave to me were that he wanted it to be hard-driven, he wanted the spark, an edge to it. He wanted to see a lot of archival footage in it that would chronicle man's inhumanity to his fellow bothers and sisters. And using that as a starting point, we came up with this idea of Michael being one of many convicts in this prison."
On the Brazilian video set, Lee spoke with the music press:
"Mike said he was gonna try to drive the crowd into a frenzy, and he did. And these two ladies jumped out from the crowd – security was lacking on one side, so these ladies jumped out, grabbed him, he fell to the ground! (laughing) I picked him up… and I asked the cameraman later, 'Did you shoot it?' and he said, 'Yeah, and I've got you too.' That was very funny. We did not plan this, that was not rehearsed, they just broke through, and it was exciting….…Michael has a plane waiting, he has to be in New York with his crew tomorrow, so we're gonna try to get as many shots as we can before Mike has to jet."
"Here in this Brazilian video, you can see the love Brazilian people have for Michael. It's out there. Shooting 'They Don't Care About Us' with Michael Jackson in Brazil was one of the highlights of my career, and I'm including the feature films. I just had a great, great, great time. I think it was historical what we did. It was awesome."
Jackson's mission was a success and the video brought Brazil to the forefront of the world in a manner of which had not been seen since the days of the Bossa Nova greats. It was also the first overtly political song which the artist had released, and the backlash was fierce.
Accusations of racist lyrics and accusatory press was a prominent accompaniment to the release, but the song was a hit nonetheless. The favelas were now etched into the minds of the world and there was no going back.
A second video, which featured the plight of incarcerated American prisoners was also made, but failed to create the impact of its predecessor, largely due to the fact that it had remained unaired in many regions, due to its message and controvertial imagery.
To celebrate Michael Jackson and the importance of They Don't Care About Us, MyGoodPlanet is planning something very special upon the same streets that the video was shot. Taking the spirit of Michael Jackson's work is something which MyGoodPlanet and the team have been developing for some time.
His message of togetherness, his stance against injustice and his passion for performing are all inspirational elements of 20th Century culture which will never disappear.
MyGoodPlanet is preparing something very big, based on these philosophies and it's coming very, very soon.
Watch this space, for we want to let Michael Jackson's fans and all the children of the favelas realise that we do care. About each and every one of them.