Max La Manna, the face behind Eating with Max, is a passionate zero-waste vegan chef and sustainability advocate. Inspired by his output and ethos, My Good Planet recently spoke with Max to talk about what inspired the shift in his lifestyle towards zero-waste and veganism.
We also addressed why it is important to discuss and educate ourselves about more sustainable lifestyle options.
With only a 12 year window left to make a change for a better future, it is a genuine pleasure to see determined people who are ready to make the change and lead by example; true advocates of sustainable living.
Max La Manna, of Eating with Max, is a zero-waste, vegan chef who never discards food, and resourcefully creates delicious meals, whilst being an avid voice for sustainability and environmental conservation around the world.
In August this year Max was a speaker at the UK's first zero waste and vegan festival No Planet B, his recipes have been highlighted in Vegan Food & Living and BuzzFeed Food, and he has been featured in The Bundle Magazine and Earth Day Network. His expertise in the kitchen stems from his father, who is also a self-taught chef. As Max told us;
"For anyone to understand where I am today and how I got here, I think people have to understand where I came from. My father was a chef and my mother kept a garden, she even made wine. So from a really young age I have been always surrounded by food. When I was a child I was always fascinated by food, always wanted to use my hands, and to be in the kitchen."
He adds that his "last name means 'the great hands'," so it makes sense with what he is doing today. Already, from an early age, thanks to his upbringing, Max was always conscious of what he was putting into his body, "I wanted to take care of my health, of my body, and of the environment around me," explains Max.
However, the big shift in his life came after living in Sydney, Australia, in 2016.
"People around me were living a different lifestyle to what I was used to in New York City. People were bringing their reusable cups to coffee shops, their own bags, and they were composting. So I learnt by watching what other people were doing. But I didn't fully realise or understand what I was doing."
After a year living in Sydney, Max moved back to New York and noticed trash and waste everywhere, "it felt like 180 degree turn," he adds,
"I thought I can't go back living that way. So I continued doing the same things that I did in Australia, and turned it up a notch. And then I stumbled upon zero-waste living. And step by step I started reducing my waste."
The last couple of months Max spent travelling to further explore a low impact lifestyle, as well as giving talks and taking part in panel discussions about zero-waste lifestyle, veganism and how each of us can make a difference today.
By making small changes every day, everyone can move towards a less wasteful lifestyle. It is important to see how "we are all connected," and that every choice matters. Max adds; "I want to live a life where everything I do impacts everything around me in a positive way."
One of the most often asked questions in his talks is – 'How can I start?'
"I usually like to encourage people to start small, make small changes, achieve them and conquer them. Get so good at it that you can share them with your family, friends and community. Get really good and then bring more change into your life." – Max La Manna, Eating with Max
He quickly adds how the process changes over time; "I am still learning and changing, I am constantly evolving."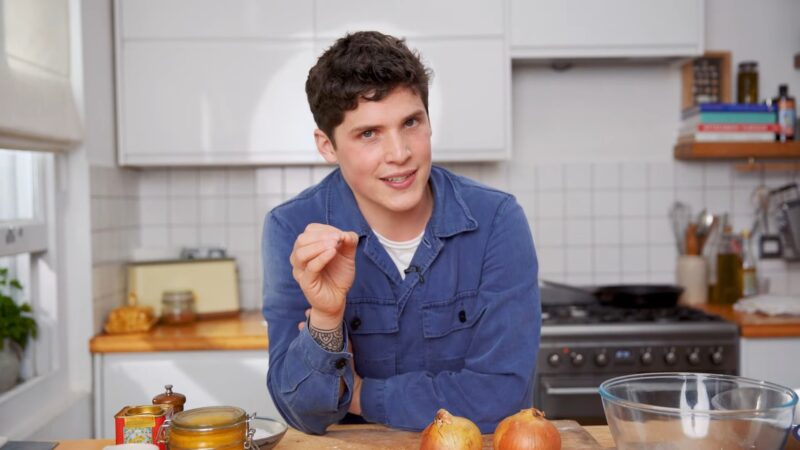 As we know in the age of information overload, it is important to keep guidance and material bite sized, so it is more approachable. Max notes that whenever he speaks about sustainability, it is essential for him to keep it insightful and educational, while also fun and exciting, and "kind, warm and welcoming." Max told us it is important to show that "everyone has an opportunity to live a less wasteful life and leave a smaller footprint on this planet."
In addition to enjoying our interview with Max La Manna on 'Eating With Max,' you might also be interested in taking a trip down memory lane with our article commemorating the 20th anniversary of Michael Jackson's 'They Don't Care About Us'.
Outside his own kitchen, Max is also keen on making difference on a larger scale. As mentioned above he gives talks and public cooking demonstrations, as well as works with restaurants on recipe developments that align with their and his values. Max also works with restaurants and hotels across the globe to encourage them to reduce their food waste. One of the first steps they have to take is to acknowledge that there is waste, and "that wasted food could be used for something else," Max adds, "food doesn't belong in the bin."
From there on he explores where their ingredients are coming from and in what ways he could reduce the distance that food has to travel. Here it is important to "understand the space that they already have, and seeing how they can work with it better."
In some cases it might be even possible to create "a herb garden or they might have facilities to make their own plant based milk, thus avoiding unnecessary packaging." Afterwards Max looks for better options of who could supply rest of the ingredients, so in general he "look[s] at ways they can reduce and create less waste."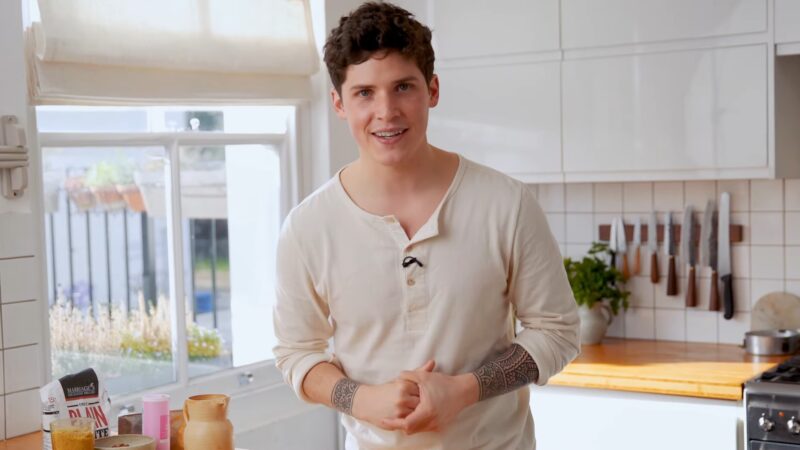 As we know to live a zero-waste lifestyle you have to be prepared for the day ahead. So before Max leaves the house he always makes sure that in his bag he has;
"a water bottle, food container, linen napkin, bamboo utensils and chopsticks, (reusable) straw, produce bag, and reusable gloves to pick up rubbish of the street."
It might seem like a lot to remember, but it's possible to quickly build a habit out of being organised in this way, and who knows who you might inspire to follow suit.
During our conversation we asked Max is there one earth friendly thing he would encourage everyone to do, "I would advise people to compost," he says, "Find a way to get rid of your food waste in a more sustainable way. If you compost, that food waste will enrich soil, you're putting nutrients back into earth, in which you can then grow your own food. It's a full circle."
"My 90 year old grandmother is composting and this is the first time she is composting in the last 60 years, it is never too late to do it again or try it for the first time."
Max's passion for eliminating food waste and protecting our planet is inspirational, and shows that it is within our power to improve the quality of life for all, both now and for the future.
For more information, head to Max's website Eating with Max and make sure to find him on Instagram for more tips and inspiration on how you can make a difference.